www.auto-innovations.net
Written on Modified on
Delta's Smart EV Charging Infrastructure Proof of Concept Showcased at eMove360° Europe 2022
Delta, a global leading provider of power and thermal management solutions, today announced it will demonstrate, at eMove360° Europe 2022, how its Electric Vehicle (EV) Charging Infrastructure solutions are capable of enhancing the energy resilience and efficiency of existing buildings.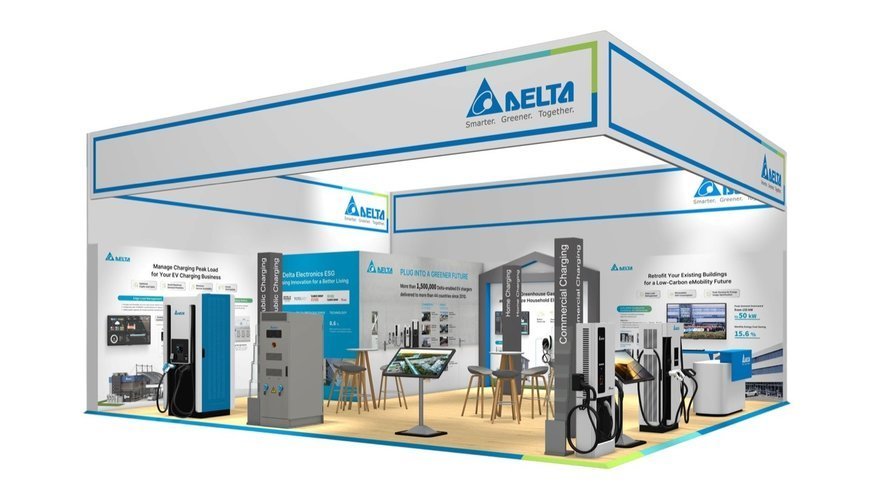 The proof of concept, which includes EV chargers, solar PV, energy storage and energy management systems, and has recently been installed at its own EMEA headquarters in Hoofddorp, the Netherlands, helps facility managers to satisfy the growing need of EV charging services while easing the subsequent impact on facility energy infrastructure and the electricity grid. Delta's solution suits a broad range of commercial, destination and public applications.
"The migration to EVs is gathering pace. As a result, there are already more than six million EVs on roads across the EU today. That number is set to increase rapidly, as more drivers come to appreciate the sustainability and environmental benefits of EVs. Further accelerating this trend is legislation that will ban the sale of ICE vehicles in the EU in 2035. Ahead of this, Delta already offers a comprehensive portfolio of EV Charging Infrastructure Solutions that are designed specifically for residential, commercial, destination, and public charging applications. This makes it easy to respond to the various charging needs of EV drivers while also easing the impact on the grid. Delta's scalable solutions simplify the process for planning, installing and managing the charging infrastructure in preparation for the evolving EV future." stated Vincent Lin, Senior Director of e-Mobility & Smart Energy Solutions business development, Delta Electronics EMEA.
Smart EV Charging Infrastructure Solutions
A survey of EV user charging behaviour shows that 80%-90% of charging events occur in the home or at work
1
, resulting in peak demand periods in either the evening after returning home, or in the morning after arriving at work. To manage the charging peak load in order to avoid peak demand charges from grid operators and to optimise renewable energy harvesting, smart charging profiles are required along with battery energy storage for peak shaving or load shifting, especially in light of the recent significant rises in energy costs.
Delta's EV charging infrastructure solution is a key enabler for the transition of energy. It combines EV charging, PV system, energy storage systems and energy management systems, all working together in a fully integrated setup that will ensure energy optimisation. It can support the highest peaks in energy and EV charging demand, and has been developed to integrate seamlessly into current power grids.
As the core part of its smart EV charging infrastructure solution, Delta will also demonstrate its new EV charging management system – DeltaGrid
®
EVM – which can help EV charging operators increase management efficiency and reduce their capital expenditure (CAPEX) and operating expenses (OPEX).
Commercial and Destination Charging
Delta offers the SLIM 100 and DC Wallbox 50kW, which is ideal charging infrastructure for destinations where EV drivers park for an extended period of time, such as commercial environments with large parking, shopping areas, restaurants, entertainment, offices, hotels. Those very compact and high efficient products are also perfect fit for EV fleet operators, car dealers, office buildings, industrial applications. The SLIM 100 is an EV charger with a robust and compact design that delivers maximum power of 100 kW and rectifiers with 96% power efficiency. The SLIM 100 provides simultaneous charging of up to three vehicles and offers DC and AC charging. It is an ideal solution for space-critical applications, as its footprint is 55% smaller than other products that offer the same level of power. The DC Wallbox 50kW offers a charging efficiency of 97%, is only 25 cm deep and has a footprint that is 60% smaller than other products with the same power range. It also supports simultaneous charging with a maximum output of 50kW of DC power from two charging connectors. The DC Wallbox 50kW has high charging efficiency, a high spatial usage rate and a high charging turnover rate, providing charging station operators and business owners with optimal spatial and operational efficiency.
Residential Charging
Delta's Residential Charging solutions enable homes to have their own private charging infrastructure to reduce greenhouse gas emission and optimize household energy bills with the combination of PV system, EV charger and Delta mobile app. Designed to be easily installed by a qualified electrician, the chargers are user-friendly and available with authentication and payment systems for multi-family houses. Delta's AC MAX EV Charger is a plug-and-play solution that minimises installation complexities and commissioning time, making it a cost-effective option for home applications.
Delta welcomes visitors to its stand (Hub 27, 404) at eMove360° Europe 2022, the world's leading trade fair for electric, connected and autonomous mobility solutions, hosted in Messe Berlin, Germany, from 5-7 October, 2022.
1US Department of Energy, https://www.pwc.com/us/en/industries/industrial-products/library/electric-vehicles-charging-infrastructure.html